Articles
Press Release - Mineral Exploration in Aberdeenshire? Gillian Martin MSP gets the scoop
May 23, 2023
Source:
Office of Gillian Martin MSP
The mineral exploration company, Aberdeen Minerals, invited Gillian Martin MSP on a site visit in Aberdeenshire to illustrate the work they are doing in the region.
Founded in 2018, the company is currently engaged in mineral exploration in North East Scotland to locate battery raw materials, with the aim of supplying the zero-emissions electric transportation sector.
Drillings and surveys from the 1960s and 70s informed the company that the region may be worth exploring as a source of necessary raw materials that only imported, including copper, nickel and cobalt. The company suggests that sourcing these materials domestically comes with assurances of environmental protection, security, and safe, fair labour.
During the site visit, Aberdeen Minerals General Manager Drew Craig showed Gillian Martin MSP a site outside of Ellon where the company had previously carried out sample core drilling. This site had been selected following a process of aerial surveying using a helicopter, which completed last September.
Sample drilling at sites for ground exploration is subject to permission from the landowners, a stage during which Aberdeen Minerals has worked with NFUS in engagement with those landowners, most of whom are farmers.
The next pivotal stage for their project is pursuing JORC code - JORC is the Australian code for reporting results of exploration for minerals and ore and forms an important aspect of trading minerals.
After visiting the site, Ms Martin met with representatives Aberdeen Minerals at their technical unit where she was shown cores they've found that contain extractable elements. CEO Fraser Gardiner gave an overview of their recent work, while geologists Cecelia Bradley and Dr David Holwell went over some finer technical details.
Ms Martin was told that the company wants to engage soon with local schools and young people groups for educational purposes and with a view to possibly attract interns.
Following her visit, Gillian Martin MSP commented:
"I'm delighted to have learned what mineral exploration in Aberdeenshire entails, and where it's going. I want to extend my thanks to Aberdeen Minerals' CEO Fraser Gardiner, General Manager Drew Craig, and geologists Cecelia Bradley and Dr David Holwell for showing me where their efforts have taken them so far.
"While visiting the core drilling site outside of Ellon, what really struck me is that you'd never guess the place had been the site of recent drilling – their exploration is being carried out with the lightest touch, and while focused on exploration, the company supports the lowest-impact methods of removing minerals. Aberdeen Minerals are tapping into something which has been untouched for decades, exploring resources which could benefit Scotland in the future."
ENDS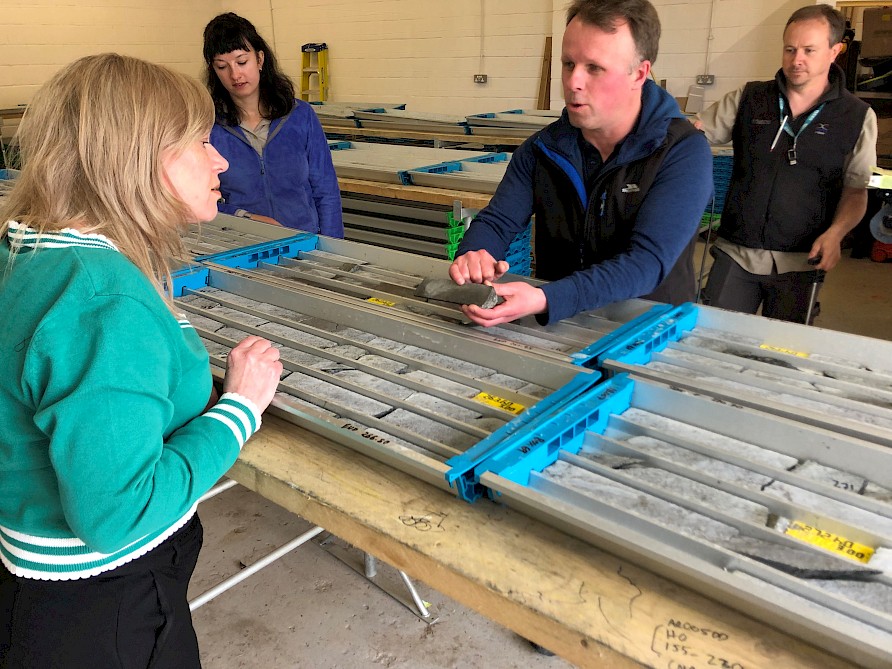 Articles